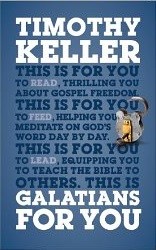 Galatians For You (God's Word For You)
Galatians For You is a new curriculum tool you can use to learn or teach from the book of Galatians. Both student and teacher can use it to walk through Galatians, learning how the gospel message changes the whole of our lives.

Combining a close attention to the detail of the text with Tim Keller's trademark gift for clear explanation and compelling insights, this is a uniquely flexible curriculum resource. It can be utilized by anyone who has a teaching ministry, to help small-group leaders understand and apply the text in their study groups, and to give preachers helpful ways of connecting timeless Bible truths to today's world. It can be used as a daily devotional, complete with reflection questions. Or it can be read for personal study and edification.

Galatians For You has an accompanying small-group study guide, Galatians: Gospel Matters: Seven Stuides for Groups or Individuals, which can be bought separately.

This is the latest curriculum resource from New York pastor and bestselling author Tim Keller, and the first in the new God's Word For You series.
Timothy Keller believes in Predestination and the first few chapters are rife with this doctrine. Although this is not an apologetic on predestination, and he doesn't teach predestination in this book, he assumes it to be true, and assumes that you believe it. If you're willing to wade through this, there are some gems in this book that are definitely worth the read. Here are some of the highlights to me…
First, the gospel leads to cultural freedom. Moralistic religion tends to press its members to adopt very specific rules and regulations for dress and daily behavior. Why? If your salvation depends upon obeying the rules, then you want your rules to be very specific, do-able and clear. You don't want: Love your neighbor as yourself, because that's an impossibly high standard which has endless implications! You want: Don't go to movies or Don't drink alcohol or Don't eat this type of food.

Second, the gospel leads to emotional freedom. Anyone who believes that our relationship with God is based on keeping up moral behavior is on an endless treadmill of guilt and insecurity. As we know from Paul's letters, he did not free Gentile believers from the moral imperatives of the Ten Commandments. Christians could not lie, steal, commit adultery and so on. But though not free from the moral law as a way to live, Christians are free from the it as a system of salvation. We obey not in the fear and insecurity of hoping to earn our salvation, but in the freedom and security of knowing we are already saved in Christ. We obey in the freedom of gratitude.

We can easily make far too little of Christian unity today, focusing on what divides us from fellow believers in the gospel rather than on the Lord and Savior who has brought us together. But the opposite error is equally dangerous: making too much of unity at the expense of it being Christian.

As Dick Kaufmann, who used to be executive pastor at the church I serve, says: "Christians think that we are saved by the gospel, but then we grow by applying biblical principles to every area of life. But we are not just saved by the gospel, we grow by applying the gospel to every area of life."

Salvation means much more than forgiveness. We do not simply have our slate wiped clean; we also become perfect in God's sight. And we stay perfect in God's sight. We do not begin by trusting in Christ's curse-becoming, blessing-giving death for us, and then continue "by human effort", as though we must now earn ongoing blessing. That is "foolish" (v 1). We go on as we began, having our hearts melted and molded by knowing and trusting Christ crucified. We never move on from the gospel—we never can, and never need to.

Because, as Richard Lovelace says: "Christians who are no longer sure that God loves and accepts them in Jesus, apart from their present spiritual achievements, are subconsciously radically insecure persons, much less secure than non-Christians, because of the constant bulletins they receive from their Christian environment about the holiness of God and the righteousness they are supposed to have. Their insecurity shows itself in pride, a fierce defensive assertion of their own righteousness and defensive criticism of others. They cling desperately to legal, pharisaical righteousness, but envy [and] jealousy and other … sin grow out of their fundamental insecurity." (Dynamics of Spiritual Life, pages 211-212)

In normal religion, the motivation for morality is fear-based. In gospel Christianity, the motivation is a dynamic of love,

"If 'idolatry' is the characteristic and summary Old Testament word for our drift from God, then 'desires' (epithumia) is the characteristic and summary New Testament word for that same drift…

Because Christ is the ultimate and unsurpassable example of this kind of love. We are to love others as Christ loved us (John 13:34; Ephesians 4:32). Though the whole Old Testament law could be summed up in the command to love, it is Christ's life and death that becomes the supreme embodiment of what this love should be. When we look at His life and attitude and all His dealings, we have, in a sense, "a law", a breathtaking model of the kind of life we should live.