Where does the world in decline find you? Are you ready to search for the truth of God and walk in it, or have you been cast adrift to your own inventions? Please consider these studies of thousands of years old texts. These aren't experimental philosophies and popular fads that will be disproved and fall by the wayside. These contain truths that people have successfully implemented in their lives for many generations.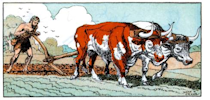 God's Formula for Rest
In His word, the Bible, God has given His children a formula for rest. However, too often, we misunderstand the formula and like in the examples above, are not happy with the results. In this study we are going to examine God"s formula for rest in its three steps in an effort to obtain the desired end results.
Marriage, Divorce and Remarriage — A Biblical Perspective
Our prayer in this series of studies was to know the mind of God or the attitude of God toward marriage, divorce and re-marriage. The focus of our study was to understand what allowance God has made for those who are the "victims" in a situation where their partner has been guilty of sexual immorality or where their partner has abandoned them. Our desire was to first allow the scripture to indicate God's original intent in the marriage. Second, to understand what allowance God, in his mercy, has granted those whose spouse has not followed God's original intent relevant to marriage.
Bible study on the Christian Family
Sometimes people think if they simply ignore God's laws, they will not be accountable and God will not enact the penalties. People only try this in the spiritual realm. They know they cannot close their eyes and walk into busy traffic without injury or death. Yet, some expect good in their lives and may seem puzzled or even angry when it does not happen even though they have been living contrary to God's spiritual laws.
Civilization & Co., Homewreckers
This material was penned many years ago by a devoted Christian minister. Though old in origin, it is up to date in practical fact and application. It is well worth reading, considering and applying again today in our modern society.