For two or three years I have been contemplating the question of why so many of God's Children struggle to have peaceful fellowship among themselves.  What are the strongholds that keep the Lord's family from functioning in loving harmony and accepting one another as Christ has accepted each of his children? Rom. 15:7 Accept one another, then, just as Christ accepted you, in order to bring praise to God. What is it that causes the hard-line adherence to the minor issues of doctrine that results in pious attitudes toward one another? 1 Cor. 3:3 For you are still carnal. For where there are envy, strife, and divisions among you, are you not carnal and behaving like mere men?
What are strongholds?
Is the reason for the lack of harmony purely one's pride, when we must admit we all have some?  Is it purely carnality, when we all realize at times we have some carnality? So, what is it?  Could it be that Satan himself has used our weaknesses such as, pride, carnality, fear, and a lack of faith to establish a multitude of satanic strongholds held in force by many false concepts?
If that be true, then it would motivate one to study and find out just what are some of these false concepts. I do not claim to understand or have pinpointed all the problems or strongholds, but some examples can be given.  Let's start with some obvious ones we can all agree with.
The strongholds of doctrine
The person, (saved or lost, God knows) who clings to the belief that it is essential for him to be water baptized in order to be saved.  That is the concept he has ingrained deeply in his mind, so looking through the filters of his core concept, when he reads scripture, his tendency will be to always interpret every mention of "baptism" as meaning "water baptism".  Yet we know that there are several types of baptisms such as water, fire, death, and spiritual.
The person who does not believe in the security of the believer, must adhere to a system of good works to maintain his salvation. He will interpret scripture to support his or her belief.  That same person will have a great fear of believing anything different than works.  Perhaps they have never fully trusted in the saving grace of our Lord Jesus Christ. See (Eph. 2: 8-9)
I remember discussing that issue with my dear grandmother "Mema" who was a member of the Church of Christ denomination all her adult life.  At the end of our discussion she finally said, "I've got to believe what I believe or I'll go to hell!"  She had a great fear of walking out on faith and believing and trusting entirely on the saving grace of God.  I personally believe my dear grandmother was saved when she was younger, but was confused about her security in Christ.  But the fear that she had because of the religion that she was brought up in, was heart wrenching.  It robbed her of the peace and joy she could have experienced while here on earth.
And the list goes on and on.  The predestination doctrine, various law keeping doctrines, etc., etc., all will skew the thinking of the reader of God's word toward their selected or preferred doctrinal views.
The strongholds of religion
In each case Satan has done his work in establishing his domain through strongholds of faulty concepts.  These concepts are supported by a biased view of selected verses from God's word that seem to support their religious persuasion.  Satan can use persuasive men (saved or lost) to deceive the hearts of the unsettled.     Rom 16:17 Now I urge you, brethren, note those who cause divisions and offenses, contrary to the doctrine which you learned, and avoid them. 18 For those who are such do not serve our Lord Jesus Christ, but their own belly, and by smooth words and flattering speech deceive the hearts of the simple. Also see (2Pet. 3:15)   It speaks of those who twist scriptures to their own destruction.
Oddly enough, these religious false bible concepts can give the followers a false sense of security. Because in their minds if they follow those concepts, that will give them the desired results they are looking for, such as gaining God's favor, achieving eternal life, or even sanctity or holiness before God.
And now some more specific examples closer to home.  Look at the chart on the next page with the false concept in the middle. Some of the supporting bible verses are surrounding the concept.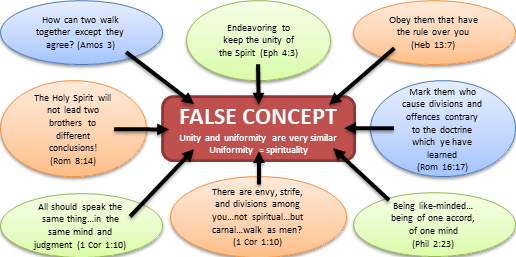 The strongholds of opinion
When a brother who has been taught or has taught the concept "Unity or spirituality is conformity", then all scripture they read will automatically support their core religious beliefs. Those abbreviated scriptures above are some of the primary verses that Satan has turned completely around or twisted in the attempt to support the main false concept of uniformity.  This false concept has, for years, robbed us of the joy of true fellowship in Christ. It is God's Spirit, and the way of life it inspires, which should bind us together in Unity. Let Gods word speak for Its self, and let every man be a liar.  Please read the following verses prayerfully.      Col. 3:14 But above all these things put on love, which is the bond of perfection.  What is the bond of perfection?  Love is the bond that unites His children, not conformity!
You, my brothers and sisters, were called to be free. But do not use your freedom to indulge the flesh[a]; rather, serve one another humbly in love. For the entire law is fulfilled in keeping this one command: "Love your neighbor as yourself." If you bite and devour each other, watch out or you will be destroyed by each other. But the fruit of the Spirit is love, joy, peace, forbearance, kindness, goodness, faithfulness, gentleness and self-control. Against such things there is no law. Those who belong to Christ Jesus have crucified the flesh with its passions and desires. Since we live by the Spirit, let us keep in step with the Spirit. Let us not become conceited, provoking and envying each other. (Gal. 5:11-14,22-26)
Put on then, as God's chosen ones, holy and beloved, compassionate hearts, kindness, humility, meekness, and patience, bearing with one another and, if one has a complaint against another, forgiving each other; as the Lord has forgiven you, so you also must forgive. And above all these put on love, which binds everything together in perfect harmony. And let the peace of Christ rule in your hearts, to which indeed you were called in one body. And be thankful. Let the word of Christ dwell in you richly, teaching and admonishing one another in all wisdom, singing psalms and hymns and spiritual songs, with thankfulness in your hearts to God. And whatever you do, in word or deed, do everything in the name of the Lord Jesus, giving thanks to God the Father through him. (Col 3:12-17)
Love has been perfected among us in this: that we may have boldness in the day of judgment; because as He is, so are we in this world. There is no fear in love; but perfect love casts out fear, because fear involves torment. But he who fears has not been made perfect in love. (1 John 4:17-18)
Overcoming strongholds
Brothers, most of us know what it is like to be deceived by Satan in support of man-made or fear-based religion.  Satan has and is using fear, a lack of faith, pride, and carnality to keep us in bondage in the strongholds he has established through faulty scriptural concepts.  That being said, do we continue to "make the endeavor" to have peaceful fellowship with our brothers?  I say yes, that is, we continue to make the endeavor with all who are willing to do so peacefully.  Those that aren't willing, well, that is sad. But we simply continue to move forward.  But fear and religious baggage is hard to shake or see through.  Sometimes brothers act accordingly, as they are fearful of losing the false security that binds them together.  That's why we often get a carnal response, when we address one of the strongholds that Satan has so cunningly devised.  The scriptures used to support the false concepts, in many minds, must support each other else the whole doctrinal position or "house of cards" begin to fall.  So how do we proceed?  We lovingly and patiently tear down one satanic stronghold at a time for any who "love" enough to endure the pain and then hope for the best.  Until then, I want to be careful to be patient and remember other scripture such as:
Keep reminding God's people of these things. Warn them before God against quarreling about words; it is of no value, and only ruins those who listen. Do your best to present yourself to God as one approved, a worker who does not need to be ashamed and who correctly handles the word of truth. Avoid godless chatter, because those who indulge in it will become more and more ungodly. Their teaching will spread like gangrene. Among them are Hymenaeus and Philetus, who have departed from the truth. They say that the resurrection has already taken place, and they destroy the faith of some (2 Tim 2:14-18)
Don't have anything to do with foolish and stupid arguments, because you know they produce quarrels. And the Lord's servant must not be quarrelsome but must be kind to everyone, able to teach, not resentful. Opponents must be gently instructed, in the hope that God will grant them repentance leading them to a knowledge of the truth, and that they will come to their senses and escape from the trap of the devil, who has taken them captive to do his will. (2 Tim 2:23-26)
1 Accept the one whose faith is weak, without quarreling over disputable matters. 2 One person's faith allows them to eat anything, but another, whose faith is weak, eats only vegetables. 3 The one who eats everything must not treat with contempt the one who does not, and the one who does not eat everything must not judge the one who does, for God has accepted them. 4 Who are you to judge someone else's servant?  10 You, then, why do you judge your brother or sister? Or why do you treat them with contempt? For we will all stand before God's judgment seat. 11 It is written, "As surely as I live,' says the Lord, 'every knee will bow before me; every tongue will acknowledge God.'12 So then, each of us will give an account of ourselves to God.13 Therefore let us stop passing judgment on one another. Instead, make up your mind not to put any stumbling block or obstacle in the way of a brother or sister.19 Let us therefore make every effort to do what leads to peace and to mutual edification. (Romans 14:1-23)
Conclusion
May I walk by faith day by day and allow the Lord to help me through these difficult times with the joy that only He can give.  Heb. 11:6  But without faith it is impossible to please Him, for he who comes to God must believe that He is, and that He is a rewarded of those who diligently seek Him.     Heb. 4:12   Looking unto Jesus, the author and finisher of our faith, who for the joy that was set before Him endured the cross, despising the shame, and has sat down at the right hand of the throne of God.
The author of this article does not believe his life wholly reflects the above scripture.  He admittedly has had failures in all of the weaknesses described in this study.     Rw.