Not for these only do I pray, but for those also who believe in me through their word, that they may all be one; even as you, Father, are in me, and I in you, that they also may be one in us; that the world may believe that you sent me. (John 17:20-21)
Jesus Prayed for you, but most Christians have not answered that prayer.
They have splintered into thousands of groups, sects, divisions, schisms, churches, and denominations. They have institutionalized their differences and opinions. They have published their disagreements. This is not what Jesus wanted us to do. And, as a result, instead of seeing Christians as "one with Jesus and the Father," the world sees confusion.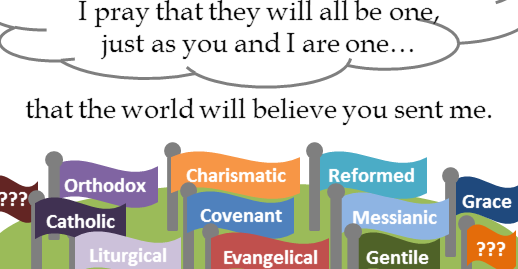 I understand we will never be able to all agree on every aspect of every doctrine of every verse. But it seems we might have lost sight of the goal. Amidst all the confusion of building all of our churches, edifices, cathedrals, religious institutions, and christian corporations, we might have forgotten the main purpose…
For God so loved the world, that he gave his one and only Son, that whoever believes in him should not perish, but have eternal life. For God didn't send his Son into the world to judge the world, but that the world should be saved through him. (John 3:16-17; Genesis 22:1-10; Romans 5:6-11)
Instead of joining Jesus Christ in helping the world to be saved through him, many Christians seem to be working against Jesus Christ by judging the world and judging each other. They write statements of faith, they write articles of incorporation, they write rules and regulations, they attack each other, and they attack sinners. They seem to have forgotten…
For in the gospel the righteousness of God is revealed–a righteousness that is by faith from first to last, just as it is written: "The righteous will live by faith." (Romans 1:17)
If you would like to answer the prayer that Jesus prayed?
Reach out to your Christian brother or sister friend, relative, associate, or neighbor who is not part of the same persuasion as you. If they love Jesus Christ and have accepted His substitutionary death, burial, and resurrection, they are saved, regardless of doctrine, regardless of  tradition, and regardless of sin. You are going to be with them in heaven forever. Why can't you start having free unrestricted fellowship with them now?
I think the recent Harvest America: one day, one church, one message events are a good start. But one day is not enough. This needs to be "every day every Christian every message."
Deeper study:
If this resonates with you please share on social media, write to us, or join the conversation below.